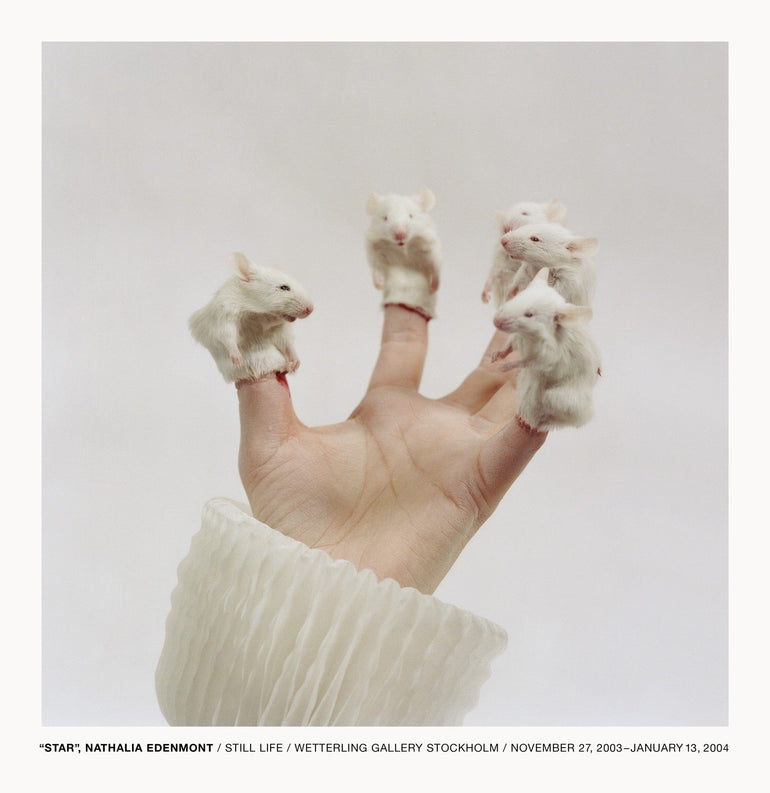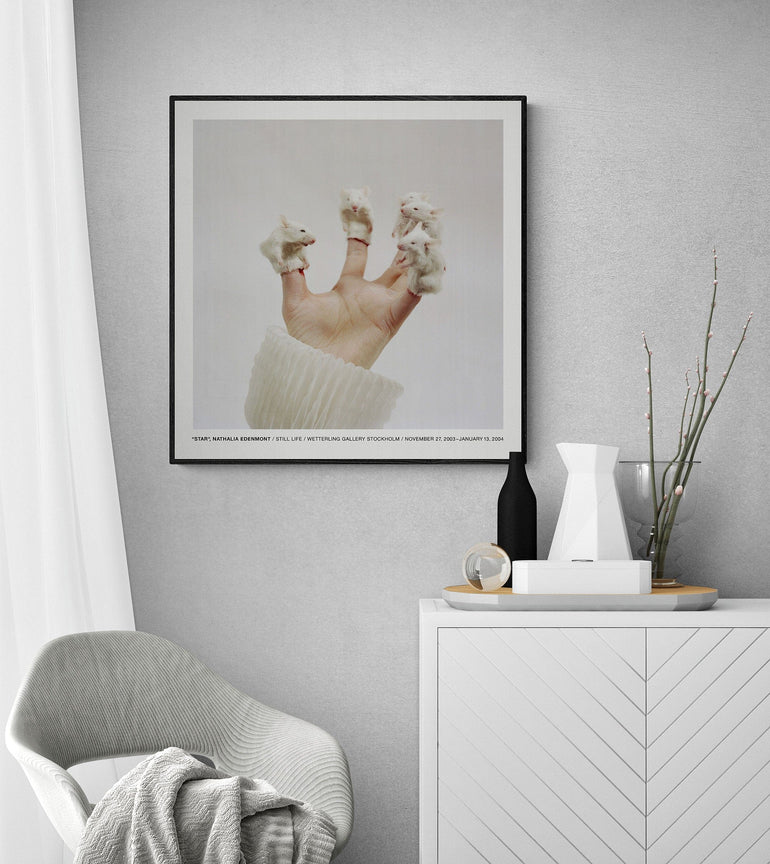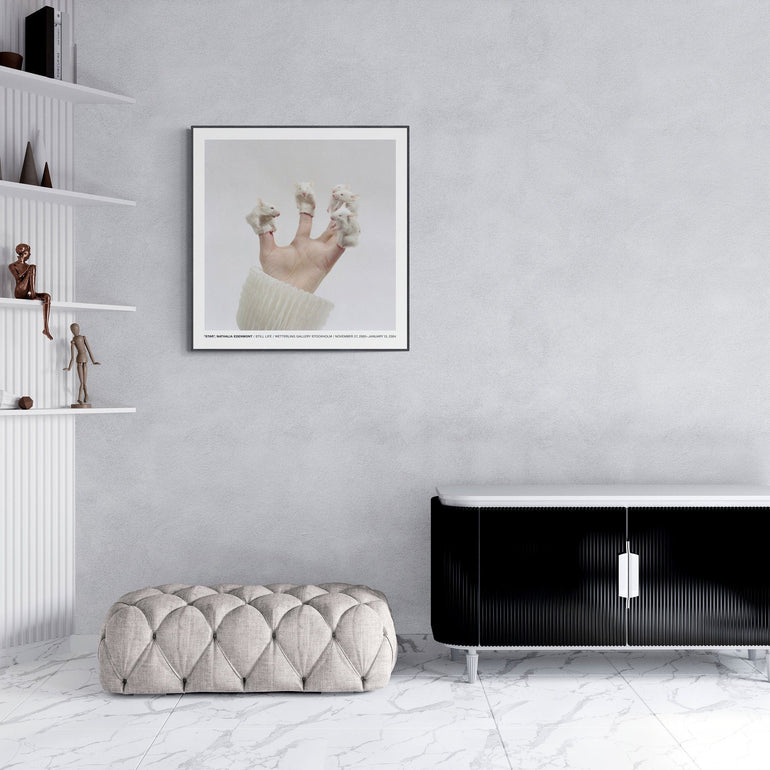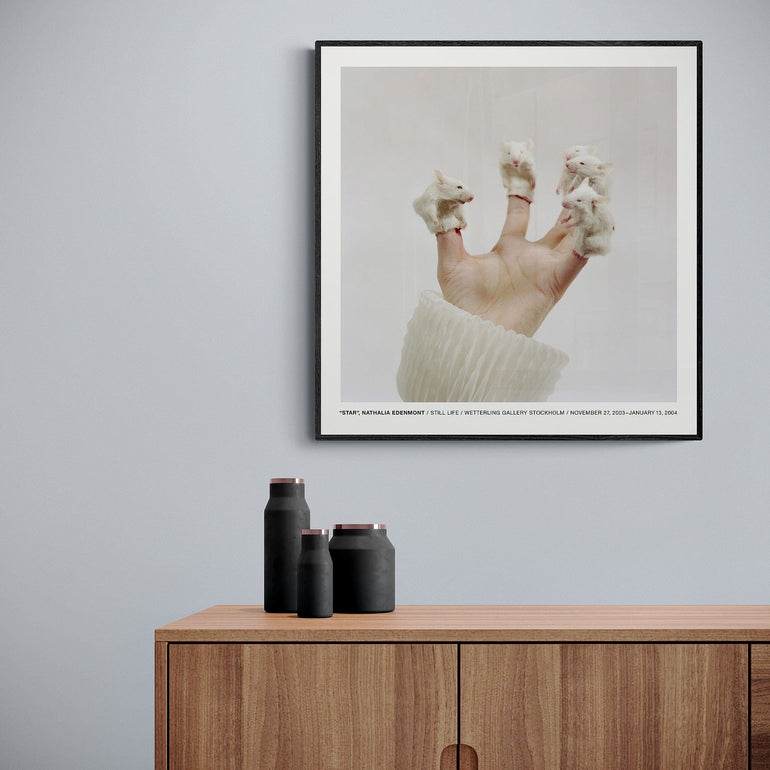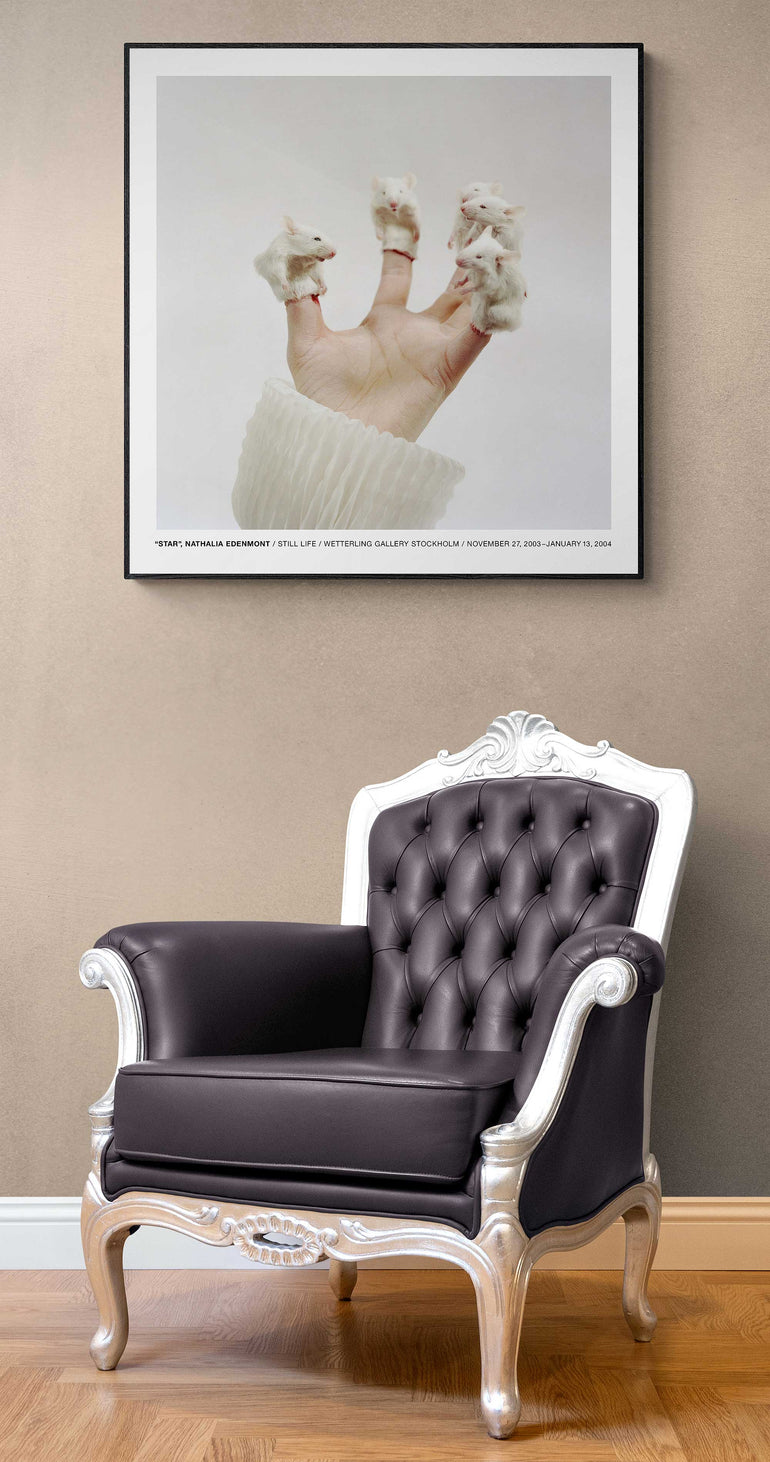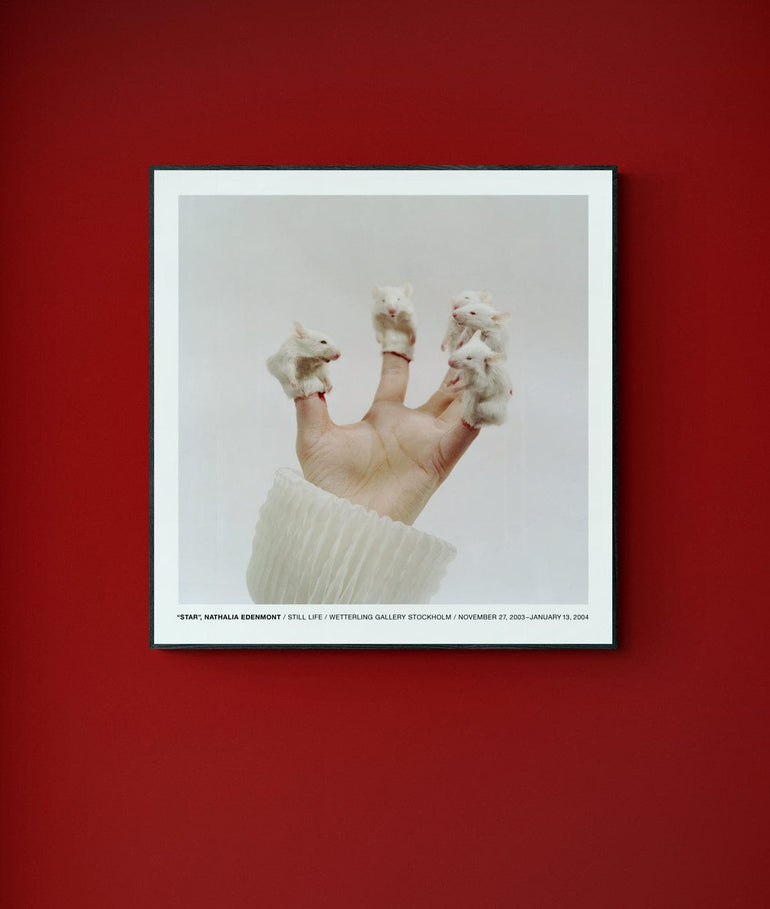 NATHALIA EDENMONT, Still Life, 2023
Size (framed)
Height: 72 cm
Width: 70 cm
Work details 
Poster
Nathalia Edenmont's commemorative poster celebrating 20 years of her acclaimed work "Star", 2002, and the exhibition "Still Life", 2003, at Wetterling Gallery. 

- Free returns up to 14 days from delivery
- 7 days delivery within Sweden, 14 days worldwide
- Shipping insurance included
- Price excluding the frame. For framing inquiries, please contact us at info@wetterlinggallery.com
About the artwork:
Commemorative poster celebrating 20 years of Nathalia Edenmont's artwork "Star", an acclaimed yet controversial piece that retains its relevance as we question our relationship with nature more deeply than ever before. "Star" figured as a central piece of the exhibition "Still Life", which was targeted in a physical attack on Wetterling Gallery in December 2003. In Björn Wetterling's words following the attack, "what's the point of provocative art? People do get upset". 
"Like marionettes, we sit, placed upon the fingers of society and of power (as in "Star"). In the hand of conformism, powdered and adorned with frilly collars as it is, we are safe and secure, but, alas, oh so dead. We delude ourselves that we are alive. "We are blond. We are blind." A cruel picture, though -- and mark this well -- not the cruelty of the artist, but rather the cruelty of an art that sets the truth free. If the white mice form the points of the devil's pentagram, or symbolize the five points of the Soviet national symbol -- the red star, they, at the same time, also point out something that exists right in our midst, in "the land of the blond," where we live. Yet do we want to see it?"
- Lars O Ericsson, 2003
"The publicity that preceded the exhibition has to some extent come to dwell on the fact that the animals used by the artist were killed by the artist herself, something that is also underlined in the catalog by the note "the picture is not a photomontage" next to one of the works. If you are appalled by Edenmont's approach, it is not improbable that at the same time, you turn a blind eye to other, far more serious abuses against living beings.

Edenmont has dug deep into the older history of art and skilfully paraphrases the Baroque genre portrait, where power, wealth, and social status are given a tight and sober frame (...). Only in exceptional cases do you see traces of blood, and then always associated with the presence of a human hand in the room, like the sudden and fatal intervention of an absent deity."
- Anders Olofsson, konsten.net, 2003
About the artist
"I grew up in the Soviet Union and was educated in classical painting. During art school, I studied all old masters, and when I later had the opportunity to travel, I visited numerous museums around the world. I cannot remember the names of all the artists, but their works are protected in my visual memory.  When I moved to Sweden I abandoned painting and turned my interest to photography. However, I have stuck to the concept of creating the objects in my images with real material, I do not just "find" the motive. All my photographs are meticulously staged, and I frequently use materials from nature, like flowers and insects. But my classical education does not leave me. Instinctively, my works refer back to art history." 
- Nathalia Edenmont 
Born in Yalta, Crimea, 1970, Edenmont trained at State Art School of Kiev, Soviet Union, Simferopol State Art School, Crimea, and Forsberg's International School of Design, Stockholm, Sweden. Her work has been exhibited throughout Europe and the United States and can be found in private and public collections globally including the Modern Museum Stockholm, Miami Art Museum and Moscow House of Photography Museum among others. In February 2014, Swedish public television broadcast a one hour documentary about Edenmont and her work. Edenmont has lived in Sweden since 1991.
---
Free returns up to 14 days
Fast deliveries & transportation insurance
NATHALIA EDENMONT, Still Life, 2023
Shipping
Fast shipping
We pack carefully and ship orders within 2 working days. Delivery times will depend on your location, but are up to 7 days within Sweden and up to 14 days elsewhere - often faster than that.
Order tracking
All our shipments include tracking and transportation insurance. Once your order is shipped, you will receive an email notification with a tracking link and an expected delivery date.
Contact
We are always available should you have any questions or requests regarding your delivery. You can reach us through the chat icon below, through info@wetterlinggallery.com or through the contact page in the top menu.